It's only the beginning of December and we're already in a New Year's mood and we can't wait to share it with you! A difficult but productive year is behind us and we can't wait to tell you all the news.
December is the month of summing up, meeting goals and completing all open tasks.
All HR departments have high workloads right now, so we are working to make sure you spend less time on routine and more time working with your employees.
We've already released several updates in the last month and a half.
1. New interactive org chart
The new organizational structure allows you to find any employee and his departmental subordinates in a detailed view, as well as a quick search through it, which will be especially useful during onboarding of new employees to understand how your company is organized. And as a pleasant bonus, you can download it into PDF format and use it in Welcome Book, presentations or other documents.
2. Custom alerts
We continue to fill our block of alerts for you to be able to configure notifications for the necessary actions and activities that take place in your company, and this time we've added a few more important items, namely:
new employee's exit
employee termination
cancellation of an employee's approved leave
adding an employee's idea to the suggestions window
3. Improvement of OKR in the system
Managing OKR in a company is not an unimportant HR feature and to make it as convenient for you as possible we have made a number of improvements on this block:
Adding goal status by color (on plan, behind, at risk) for easy tracking of goals across the company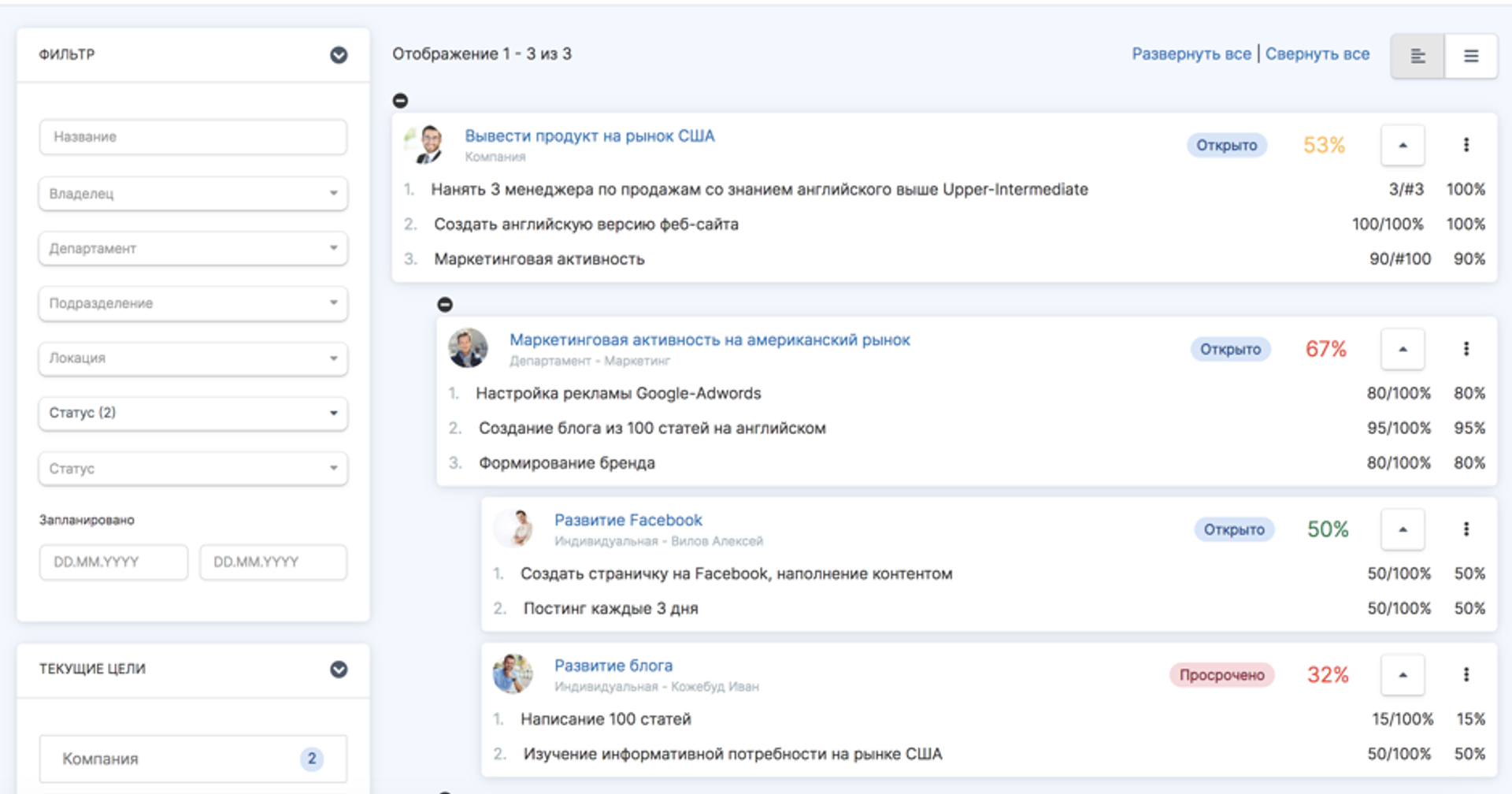 Evaluate their results after completing the goal on a 10-point scale with a comment
A time-period goal report that shows how many goals are set for an employee, how many he or she has met, and how many are overdue
And now for the December update:

In this release, we focused on the usability of the system, visualizing your personal information and activities.
1. User home page update

As you know, the system has a home page that contains the most important information that should be readily available, both on the company and on the employee's own activity. But sometimes it's hard to find information only about your own activities on your page, because there can be a lot of announcements, birthdays, and other things.
That's why we've separated the information on the company and the employee by creating a separate page for the user with all his activities by blocks.
The home page now displays only company-related information. Widgets have been modified for holidays, probation, and absences. Also importantly, all ads that have ever been published will now remain in the feed, previously only the last 20 were available.
2. 🔥 New Slack bot version 2.0!
We know that Slack is one of the most convenient and widespread, corporate messengers, so we are increasingly developing and adding new features and commands that employees can use.
In past updates, as many have already noticed, there was a feature to receive a leave request notification with the ability to confirm it in Slack chat itself.
In this same release, we've added a few more bot features, viz:
to view all your open tasks command
command to view your active vacation requests
command to view their balances for all types of absences
command to show all absent employees today
a notification in Slack when there is a new task assigned to you
All you have to do is log into your account and integrate with your Slack account!
3. Team utilization report in the PeopleTime module!
It often happens that you need to plan the workload of your employees on different projects, and it's hard to keep track of everyone, especially if your employees are working on several projects at the same time. In order to automate this process, and most importantly to visualize the picture that is currently happening in your company on projects - we have created a new report in the PeopleTime module, which is called Scheduling.
Now it will be possible to specify how much time a person will be on one or another project, and maybe even on several at once, and it is very important that this report also indicates public holidays and vacations of employees.
And a little more ...
We've made a number of other useful updates that you can already find in your accounts! Here are some of them:
Generating a new employee ID number, with the ability to find an employee via ID in a quick search
Customization of phone number format
A new feature in access rights to allow you to fire and view terminated employees, as well as manage the reasons and types of termination
New compensation change notification in the employee tab
Also, as a nice bonus - winter mood emoji have been added to the system and will now look like this
But that's not all we'd like to share with you, stay tuned to our emails in December so you don't miss this year's big news!
Check out your profiles to see the changes!
Read about previous PeopleForce updates here.
If you haven't automated your HR and are looking for an HRM system, you can try PeopleForce for 14 days absolutely for free. Sign up for the demo version and work in PeopleForce today!