If you want your company to grow and thrive in today's environment with so many variables (hybrid work, remote work, multicultural teams, hiring international workers, etc.), it's crucial to understand the importance of not only hiring, but also retaining staff. However, retention can be challenging, especially for small businesses and nonprofit-organizations. Two factors come into play here: competition with corporations with high budgets and the frequent lack of competent retention policies and strategies.
Failure to understand the reasons why employees, especially new ones, leave a company can be disastrous for growth. The absence of strategies to engage employees reduces the chances of healthy communication between employer and employee.
Companies often realize this mistake too late, but even more often, they do not understand how damaging the consequences of losing an employee can be during the adaptation period. This article will examine why employee turnover matters, how it can damage your organization's brand and reputation, and strategies to prevent it.
Why does employee turnover matter?
Anthony Klotz first used the term "The Great Resignation" in 2020, predicting mass layoffs in the United States due to the effects of the COVID-19 pandemic. Since then, the term has gained popularity; more than that, the prediction has started to come true. Apple noted in 2021 that 59% of employees worldwide were less satisfied with their company and working conditions, and 56% were dissatisfied with their work-life balance. This is especially noticeable in industries such as professional and business services, manufacturing and retail.
Moreover, 70% of senior managers are tired and burned and would like to leave their jobs, according to Deloitte. Such serious figures make one realize why turnover is a challenge in the modern corporate world. Such indicators of voluntary staff turnover negatively affect all processes in an organization.
Turnover affects the atmosphere of the team
One of the first changes you will notice when you lose an employee is a decrease in the morale of the remaining staff, and if turnover rates increase, the remaining employees may also consider leaving.
According to OfficeVibe research, 70% of employees say that having a friend at work is the most important element of a happy work environment. Moreover, 50% of employees who have a best friend at work reported that they feel more connected to their company.
If one employee leaves, the engagement of the remaining employees and their role in the company can be severely affected.
Turnover reduces team effectiveness
The loss of employees leads to a decrease in work productivity because you simply have less team to do the work. While the team makes up the difference and finds a specialist to replace them, the stress level of those employees who will be made to perform tasks that are not theirs will increase.
Secondly, the decrease in employee productivity also deals a financial blow to your organization. A report by HubSpot found that lost productivity can cost a company anywhere from 30% of the departing employee's income to 200%. No matter how you calculate the loss of productivity, the company will still lose money.
Turnover causes additional expenses
This is perhaps the biggest problem associated with employee turnover: the financial cost of attracting and training new employees to replace those who leave. Studies show that every time a company replaces an employee, it spends resources equivalent to nine months of its salary to find a new employee. For a manager earning $60,000 per year, this is $45,000 in recruitment and training costs.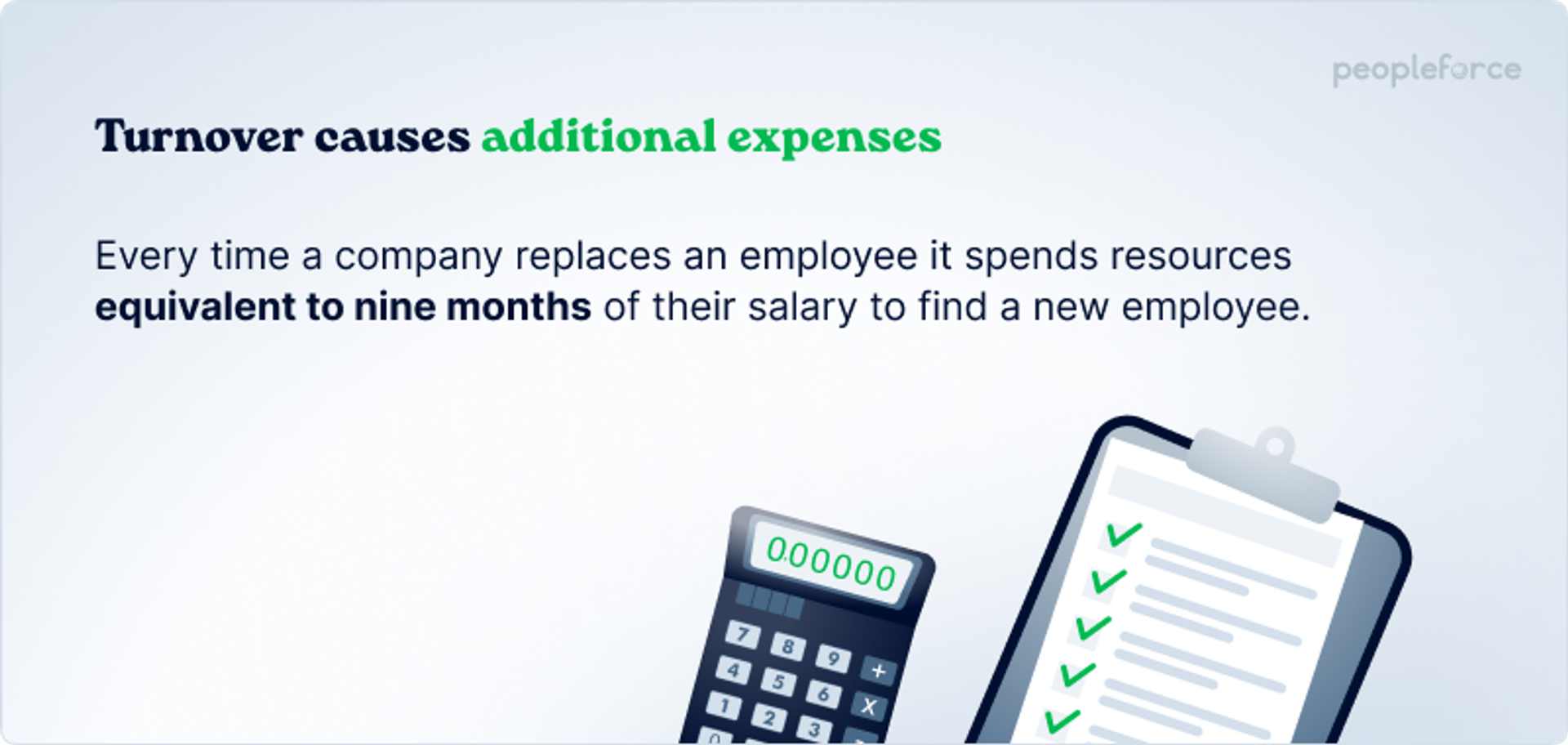 What is included in the real cost of losing an employee?
In an article about retention, Josh Bersin of Bersin by Deloitte provides key metrics that affect the real cost of losing an employee.
These metrics include:
Recruitment costs. Includes direct costs of recruiting a new employee, placement on job portals, communication, testing etc.
Adaptation costs. Includes the cost of hiring an employee, including training resources.
Loss of productivity. A new employee may take six months to two years to reach the efficiency level of an existing employee.
Loss of engagement and impact on employee morale. The team faces high staff turnover and loses engagement and efficiency, which affects morale.
Errors in work. New employees take longer to do their job and are often less professional.
Training costs. Within two to three years, a company can invest 10% to 20% of an employee's salary or more in training.
Loss of key knowledge. When highly skilled or long-time employees leave, your organization loses a cumulative set of skills, product or service knowledge, and employee experience.
Impact on corporate culture. Every time someone leaves, others have the opportunity to question whether the company's values are valid and whether the leadership itself is upholding them.
Why do employees resign?
There are many reasons why an employee may leave their current position. The main reasons for staff turnover include the following:
Lack of opportunities for career growth
Lack of employee engagement
Poorly developed corporate culture
Absence or low level of benefits for employees
Low compensation
Disagreements with colleagues or management
Lack of clear business goals and directions
What employee retention strategies are available?
Implementation of a benefits system
Providing benefits is a great way to increase employee retention. What benefits should you consider first?
Traditional health insurance is a must-have nowadays, which should take into account the exact requirements of employees.
A medical reimbursement arrangement is a popular option among organizations due to its flexibility and lower cost. It allows employees to be reimbursed for medical care, routine medical check-ups, tests etc.
Implementation of a bonus system
In addition to medical expenses, you can offer your employees various perks and bonuses. Providing such advantages to employees increases their satisfaction, which reduces employee turnover.
Consider the following options:
Benefits for employees who work remotely
Educational assistance or tuition reimbursements, such as covering the cost of additional professional courses or MBA studies
Benefits for mental health improvement
Paid leave; if you already have a leave policy in the company, improve it and add bonus types (for example, birthday off or emergency absence in case of unforeseen situation, etc.)
Flexible work schedule
Optimization of the adaptation period
The adaptation period is the most important period in the employee's life cycle, because at this time the employee weighs all the pros and cons of actually continuing to work for you.
If the adaptation period is poorly organized, i.e., if there are no elaborated stages, there are no set tasks to be performed, and there's no one responsible for the adaptation of newcomers, then onboarding can be the first step to dismissal for a new employee. This, in turn, is fraught with negative consequences for the employer.
The loss of a new employee threatens the company with a:
Negative impact on the employer's brand. A newcomer who voluntarily quits their job during or after the adaptation period may share their impression on third-party open resources. Several of these statements can create a negative image of you as an employer.
Negative impact on the company's reputation. If the employer's brand suffers from poor communication and organizational shortcomings, then this entails reputational risks. If the company is also in the wrong, such a case can seriously affect further success in recruiting and hiring, causing losses and negative mentions in the press.
Reputation losses for HR specialists. When a large resource was spent on the search for an employee, but for some reason, they left the company shortly after hiring, the HR department and its specialists may be to blame. That is why HR managers should work on optimizing the adaptation period of the employee in parallel with retention strategies.
How do you optimize onboarding and adaptation?
The adaptation period can last up to 2 years; thus, it would be a mistake to believe that this time does not need to be controlled. By optimizing adaptation, the HR manager ensures employee engagement and reduces the risks of voluntary turnover.
The workflow system, which is often offered in the latest versions of advanced HR software, helps to optimize onboarding and other processes. Workflows can cover most processes at the company, whether it is preparing an employee's workplace in the office or congratulating them on their anniversary.
Onboarding is also a component of workflow, one of its simplest examples. All tasks that a new employee must perform can be planned in advance, offering additional video guides, pictures, documents, templates and everything that a newcomer needs.
If a new employee gets acquainted with the product or service of their company and its internal resources faster, they become more interested and involved in their work.
Summary
Staff turnover and loss of employees are serious headaches for the HR department of any company, and these problems need to be solved long before conflicts arise. Along with using HR software to eliminate risks, think about the following ideas:
Work out the stages of hiring and select employees who fit the corporate spirit of the company
Determine what perks and benefits your new employees need
Set clear goals and expectations for your employees
Offer a clear career path with opportunities for growth
Create and maintain a company culture
Reward employees based on their performance
The more attention you pay to the problem of employee loss at the early stages of planning, the better your company will be able to cope with it.