Our team has racked up two releases of new features during the month of July, most of which were created in response to requests from our users. We listen carefully to what you want to see in the system, and finalise these options as quickly as possible. From these brainstorms about what customers want, great features are born in PeopleForce, adding convenience to the functionality. See for yourself.
General:
1.A quick 'hot button' has been added to the top panel in the system to access features such as:
absence request
creating 1-on-1 appointments
add new employee
new task add
add candidate
Now you don't need to go to a candidate or employee profile to create a meeting, for example. Maximum time and effort savings - the new button solves most of the tasks you need.
2. PeopleForce has added the ability to upload in .xlsx format especially for those who are not big fans of .csv files. Information about new employees can be updated and uploaded to the system over and over again, and when importing new employees their access to the system is closed by default, and the access of existing employees in the database is not changed.
3. You can set up access to edit or delete advertisements on the home page in the system for different categories of employees.
4. We redesigned the login page and added a background that will be updated every season. Of the nice design-related things: we have improved the appearance of the icons in the system, because the important things lie in the details.
PeopleHR:
1. The employee search now makes it doubly easy for you to find the right person. When selected, each employee's name and department is displayed for convenience, so you don't get two similar or namesakes mixed up, for example. An email search is also now available if you only know the email.
2. Was the probationary period closed earlier than necessary? Or have you decided to extend it a little longer? Anything can happen, and it is important to have a tool that can set a new probation date if you want to. This feature is now available in employee profiles. You can change the deadline as soon as you save the new employee in the system and assign him/her a probation policy.
3. E-mail alerts in July have also been lucky: the information that comes in has been expanded considerably. You will now see information in the email with the photo, name, position, department and location of the employee to whom it relates.
4. When creating custom reports, the "Supervisor" field is available. This means that if it is important to build an organizational structure when uploading a report or to specify who reports to whom, this can now be done in two clicks.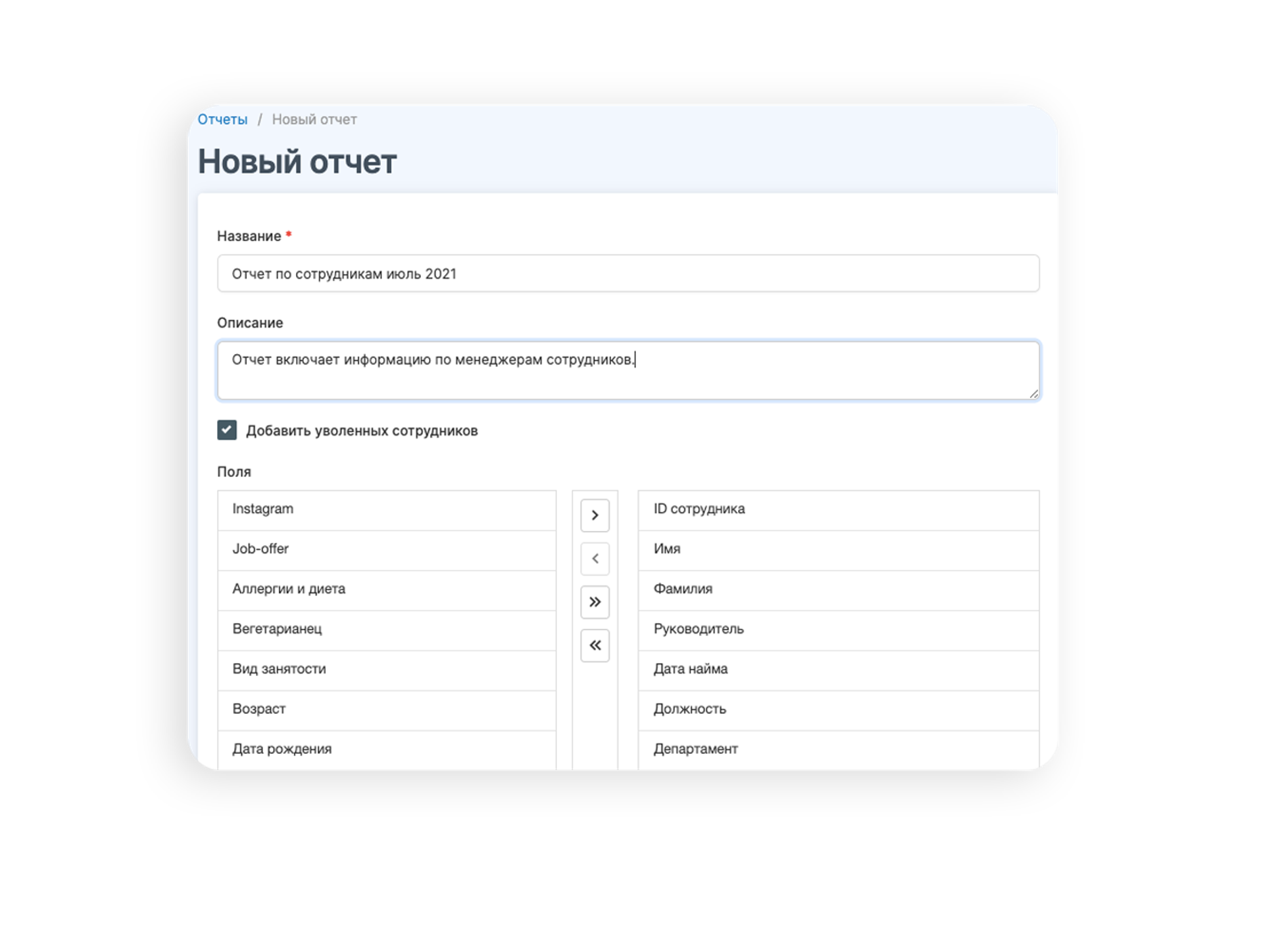 5. The directory export has also received an update: files can now be unloaded in .xlsx format, and the unloading shows more information about dismissed employees - their salary and the date of dismissal. Exporting reports in .xlsx format also works.
PeopleRecruit:
1.When parsing with PeopleProspector you can now add tags to the candidates you are interested in. Specify anything you want to mark - relocation ability, special skills, etc. You can use these tags later to search for the right candidate in the system.
Also PeopleProspector now displays icons with the number of active applications for this candidate in the system, as well as the number of applications for which this candidate has already been interviewed and rejected. This will save your recruiters time and resources to find more suitable employees.
2. If you have long wanted to clearly distinguish who leads which candidate, or who is responsible for which candidate, this function is now available. In the "Recruiter" field in the candidate profile, select the person responsible for the candidate. This employee can be changed as required.
3. When creating an interview with a candidate, a "Location" field has been added, which can be used to add a meeting location address or a link to a video chat or video conference. In addition, the candidate and interviewer can now be notified of a future interview directly from the system.
PeoplePulse:
1. A description field has been added to the questions where you can leave more details about the answer to the question, add links, emoji, etc.
2. And here's an update on the surveys we've already completed: first, we've added a page with a list of participants, so you can view the status of each one you've completed, and second, we've added a word cloud, so you can filter comments by keywords.
PeoplePerform
Now you can communicate with the colleague you need an infinite number of times: the ability to schedule several 1-on-1 meetings with the same employee in advance has been added. And another nice little addition: when you press the "Complete 1-on-1" button, the entered data is automatically saved. This is handy if you often forget to save your notes during a meeting.
We're committed to improving the system for you, so if you're interested in previous PeopleForce updates, read about them here.
If you haven't yet automated your HR processes, and you're just choosing an HRM system, you can try PeopleForce for 14 days absolutely free of charge. Sign up for the demo version and start reengineering your HR processes with PeopleForce today.