Friends, in May our main focus was the convenience of some features. That's why we've simplified several features in the recruiting block, analytics and other tools, as well as added some tasty plushies for you to heat up the anticipation of summer days and brighten up the rainy weekdays a bit. Follow PeopleForce into summer, where we'll delight you with the following fresh updates.
Access and protection updates
1. Expanded access settings for teams
Added options in the Access panel to customize the display of information for the team leader and team members. This is especially useful if your company uses a matrix organizational structure.
Team managers can set up access to necessary personal or working information about their subordinates. Co-team members can, for example, be allowed to view colleagues' contacts for easy communication, etc.
There have also been updates to the employee access settings. You can now separately allow access to onboarding, offboarding and probation panels, as well as give the ability to send out welcome emails and reset passwords.
2. Updated to enable two-factor authentication
In order to avoid unintended activation of two-factor authentication or problems with its activation/deactivation, mandatory steps for enabling this protection mode have been added.
Now the mode will be activated only after scanning a QR code and linking it to the authenticator app.
The full activation flowchart looks like this:
Install Google Authenticator: Android or iOS
In the app, select "Set up account" or plus sign (+).
Select "Scan code". If you can't scan the QR code, the system will give you the necessary keys that you must enter into the authenticator.
Then enter the received code from the app into the system.
Update on the recruitment unit
3. Added search by resume content
If you have a database of candidates and resumes saved in it, you can search for relevant information by content using keywords. This is very handy and gives you unlimited search options! Also use this line to search for name, phone number, location, desired position and skills...
Candidate filters have also been improved - they now automatically give you the right information once you've entered it.
4. Email alerts when an employee is added to the hiring team and receives a new application for a job through the career website
If an employee is added to a team of interviewers or involved in hiring for a particular vacancy - e.g. the candidate's future employees, their managers, etc., when they are added the system will automatically notify them by email of their new role.
In the notification you can see exactly which vacancy is now in your area of responsibility, its priority and the department it belongs to.
If a candidate appears who submits an application for one of your vacancies on the career website, the whole hiring team of that vacancy receives an email notification. In it you can see which position is being applied for, the candidate's name, phone number and postal address.
5. Changing the appearance of the career website page
In the tab Career site in the system settings you can activate/deactivate the internal company career site where active jobs are posted. If you need to adjust the display of icons and the logo, choose a filter or add links to the company's social media on the career site, this is also available in the settings.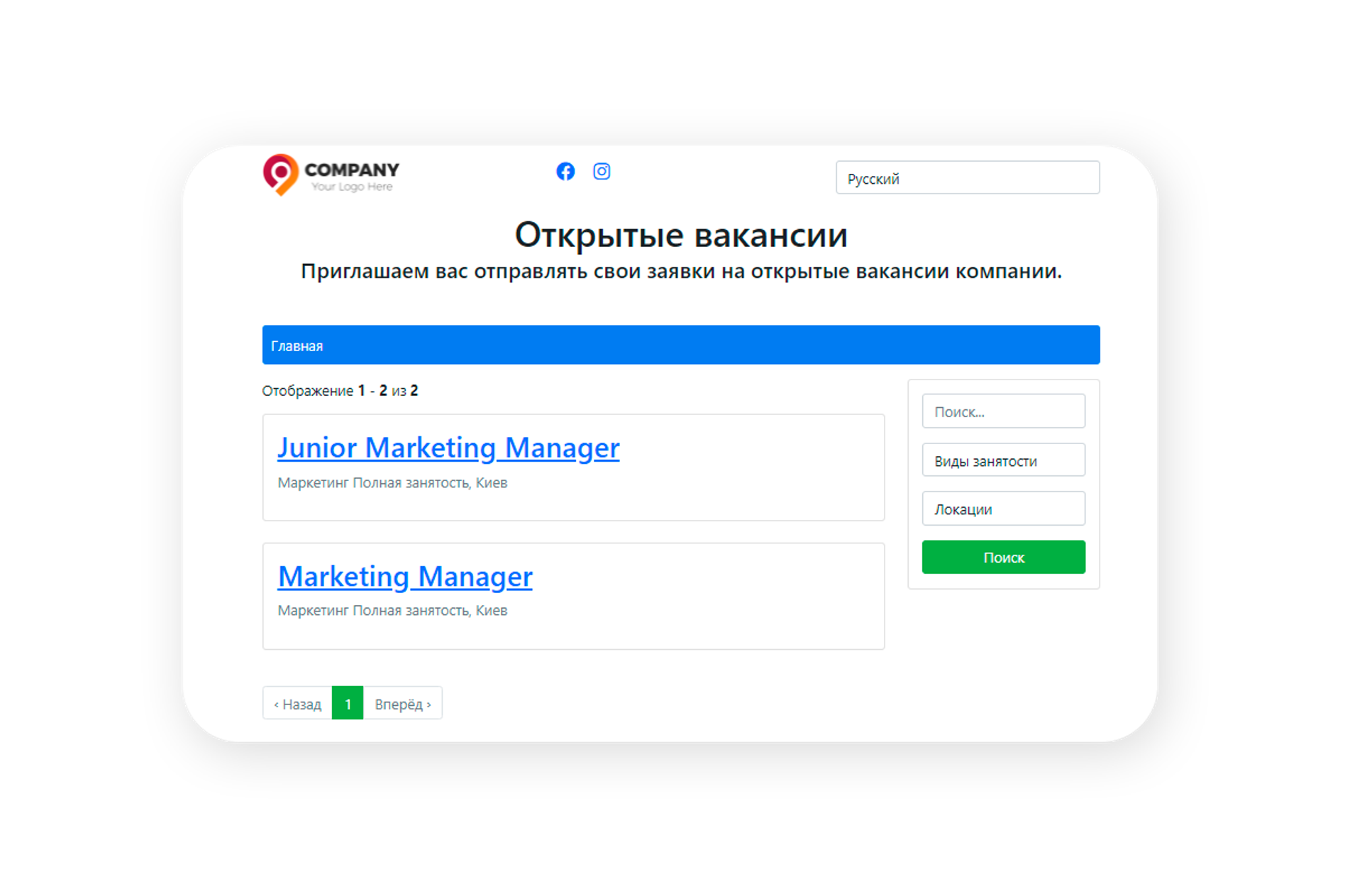 6. Updated parsing from rabota.ua and work.ua candidate databases in PeopleProspector extension
If you have access to the candidate database of rabota.ua and work.ua, now you can use the extension to parse the name, desired job, contacts and skills of the candidate.
Updates by type of absence
7. Ability to customise the display of absence types on the home page
Your company may have several types of leave and leave of absence information displayed on the home page under "Who's absent". But sometimes there are too many holiday types, or too many employees are given one of them - for example, the "Work from Home" type. Therefore, in the system settings under "Home", you can specify which of the absence types should be displayed for all.
8. Email notifications of leave approval
Added the ability to enable/disable email notifications when a requested leave has been approved. If the notification is enabled, a message can now also be attached to it. This can, for example, be a memo to an employee before going on leave to pass on current cases, etc.
Report updates
9. Changes to the leave used and absence requests reports
The Leave Used weekend report is now called Leave Requests. Previously it showed all confirmed leave and weekend requests. Now it shows all leave ever requested by the company. You can filter holidays here by confirmed, rejected and on hold.
The new used leave report shows a list of employees and their balance of absence.
10. Added ability to create custom reports
Under Reports you can now create a report with custom fields, save and export it in .xlsx or .csv format. Statistics on terminated employees can also be included in the report. We continue to work on improving this functionality: soon it will be possible to send a customised report to other employees, etc.
Other updates
12. Improved look of team page
Clicking on the name of the desired team now displays detailed information about the team leader and participants.
13. The project scheduling section has been updated
You can now add several periods of involvement of one employee on a project.
If your employee is present on a project several weeks or months apart, but their involvement needs to be taken into account, you can select individual periods and save them.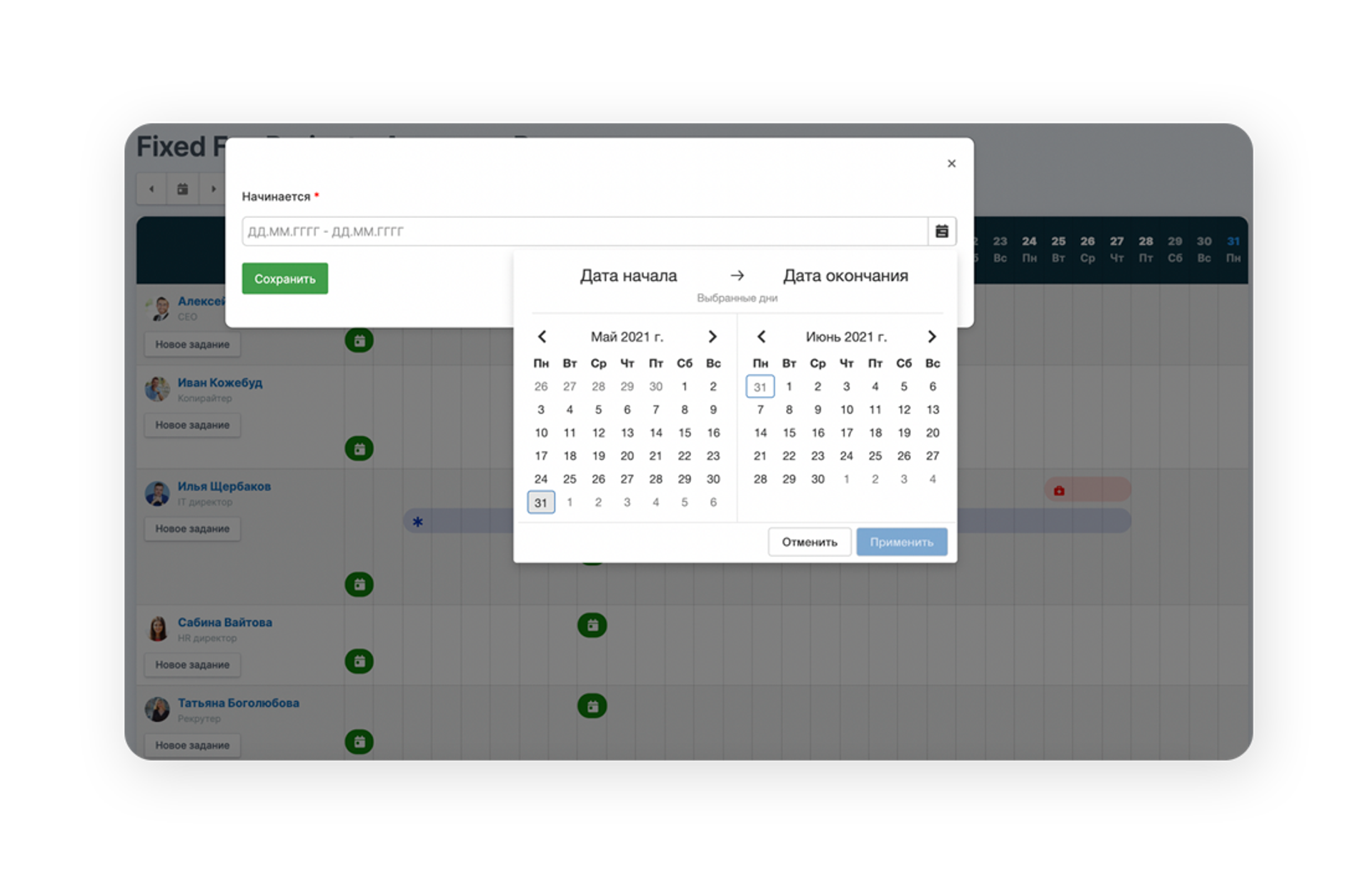 14. Enhanced corporate calendar settings now available
You can now manage your calendar as desired and according to company policy: turn on/off the display of work anniversaries, birthdays or 1-on-1 meetings if you don't want to show them to the team. The ability to synchronise calendars has also been moved to settings.
We're committed to improving the system for you, so if you're interested in previous PeopleForce updates, read about them here.
If you have not yet automated your HR processes and are looking for an HRM system, you can try out PeopleForce for free for 14 days. Sign up for the demo and start reengineering your HR processes with PeopleForce today.