In our continuous effort to simplify HR processes for employees and managers, we are thrilled to announce the release of new features in PeopleForce mobile application for both iOS and Android.
This update is all about making life simpler for our users, enabling them to handle basic HR tasks effortlessly, whether they're on the move or away from their desks.
HR professionals and administrators will also find value in this update, as it not only streamlines the experience for regular employees but also eases their own workflow by helping employees adapt to our platform more quickly.
To kick things off, we've prepared a video-summary for this update, so you can watch and learn about the new features without reading.
Now, let's dive into the details of what's new and improved in this release.
Access to the company's employees directory
With the PeopleForce mobile app, you have the power to search, discover, and connect with your colleagues effortlessly. Whether you need to find a coworker's contact, view employee photos, or know their role, it's all at your fingertips in the directory.
Open an employee's profile by tapping on their name or navigate to specific contacts by selecting the corresponding alphabet letter. The live search function instantly displays matching contacts as you type in the search bar, allowing you to filter results by first and last names.
Now, you can easily contact your colleagues right from their profiles. Copy their email with a tap or use your default email client to send a message, and even send an SMS or make a call directly from their profile.
In a situation where you urgently need to contact your manager while you're away from the office, follow these steps: Open your mobile app, find your manager using the search bar, and access their profile. Once you're there, simply tap the email icon to send a message to your manager directly from the mobile application. It's a quick and convenient way to stay in touch, no matter where you are.
The proactive overlap notifications for leave requests
Imagine this scenario: You're using our mobile app to request some well-deserved time off, but you're unsure if it clashes with previously approved leaves. That's where our app steps in. It proactively notifies you with a clear message: "Selected time off overlaps existing time off."
But that's not all. We don't leave you hanging with just the notification. We offer you guidance on what to do next. You have two straightforward options:
Instant confirmation: If you're confident in your leave request and want to proceed, simply tap "Request." It's a swift way to confirm your request and ensure it aligns perfectly with your plans.

Effortless verification: For those who want to double-check their leave history and see the bigger picture, click on "Check your current leaves," and a dedicated list opens up. Here, you can effortlessly review all your pending leave requests.
Other small improvements
See your subordinates in "Me" menu and access their profiles

Who's out status on mobile shows the same leave types as in the web app, according to company's settings

Small UI improvements on iOS devices to make our app more convenient to use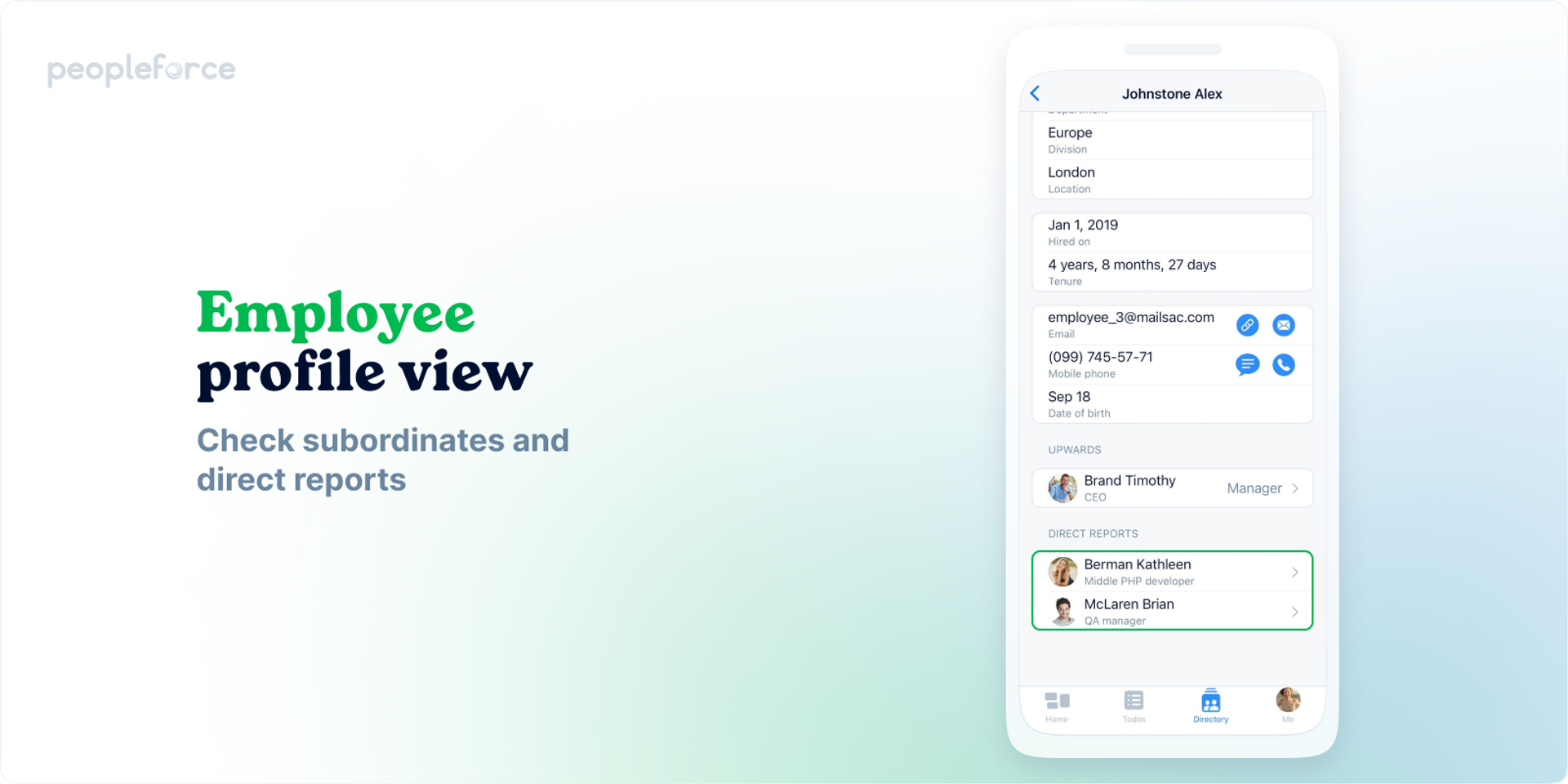 We look forward to your feedback on the new features of the application and will gladly use it for further platform development. If you have any feedback, questions, or suggestions regarding the PeopleForce Mobile App, please contact us via email or contact our experts at the Help Center.
For a comprehensive article on using the mobile app, refer to the PeopleForce knowledge base. Stay connected with us to learn more about new release updates.