The PeopleForce team strives to bring many valuable updates every month, and July is no exception here! During this period have significantly improved the interface and many frequently used functions that users rely upon:
General: The new permission management system will simplify how users interact with the platform and how roles are managed. Now roles are assigned automatically depending on the position of the employee. Every user can have an unlimited number of roles, and also permissions can be configured very flexibly, taking into account many factors such as location, departments, teams, positions, employees and other parameters.

PeoplePerform: The updated Reviews functionality must allow managers to evaluate their employees even more accurately. We have improved the rating questions, so that users could add their own number of Scales that get projected to a n-box chart. The updated chart itself brings an unique possibility to compare different answers against each other. You will have even more insights about your employees!

The Home dashboard has been redesigned and restructured in a better way to display information about announcements, birthdays, leaves, and other important details.

All filters across the system were changed and now can be opened as a handy sidebar.

The OKR and 1-on-1s were redesigned as well to fit more information on the page, while making everything even more usable and appealing.

Google Meet has been integrated with Interviews and 1-on-1s.
Permissions 2.0
The previous default role was replaced with 5 new roles that orchestrate how permissions are distributed within the system. Here's the list of new roles and what they are used for:
Employee about themselves — basic user role that allows managing what employees can view and edit in their own profiles.

All employees — basic role that determines what information an employee can see against other employees in their profile.

Team lead — user role that is assigned automatically when a user becomes a manager of a team.

Manager — is assigned automatically to everyone who has at least one employee.

Administrator — user role that has all the highest permissions within the system.
All default roles can be edited, except the administrator.
The new permission system will assign roles automatically to users depending on their current position, which in turn slightly removes the constant management routine.
With the introduction of role conditions, administrators can configure custom roles very flexibly. These conditions work as triggers that make the system look at users and change their roles automatically in accordance with these conditions. Now you can manage your employees even more effectively!
Now companies can create and assign as many roles as they need, and no permission conflicts will occur. Because for every role assigned, the higher permission will take effect, while the lower permissions will be ignored.
New permissions are available by default only to new clients, but in case you are an existing client, and you want to update your old permission system to Permissions 2.0, please contact our customer support team for further assistance.
Improved reviews
In this release we have improved rating questions and introduced the possibility to add a custom number of answers for scales that allow evaluating employees even more precisely. This data can be very effective in finding insights!
The grid chart was also updated and now it follows the N-box talent matrix evaluation methodology, which in turn should help HRs to analyse information with even more accuracy. You can compare different answers against each other, while having the answers projected up to the chart.
This change brings unique functionality to build custom charts manually with as many answers as you need, that can uncover many interesting things about your company.
The histogram within the Competencies section was removed and the data is displayed within the 'Best performing competencies' and 'Competencies to improve' blocks.

There's also a new table in competencies, that shows distribution of employees to a particular scale answer among every competency.

See more about New n-box matrix for succession planning and improved competencies.
Google Meet integration: Interviews and 1-on-1s
Meetings have never been so easy to manage, because integration with Google Meet has been added to interviews and 1-on-1s. Now when a meeting is created choosing the Meet, the corresponding event is generated within the Google Calendar, and an invitation containing a meeting link is sent to users.

To integrate the Google Meet with your account, navigate to the Account -> Add integration and choose Meet from all available options. After you complete the integration, you can choose Meet in Interviews and 1-on-1s.
UX/UI improvements
Dashboard
The Home dashboard was updated, and now users can take advantage of the better menu layout. Small UI blocks were moved to the right, while leaving more space for events, absences and announcements.
Filters
All filters across the system were moved to the sidebar menu that gets activated upon clicking the filter button within any PeopleForce section.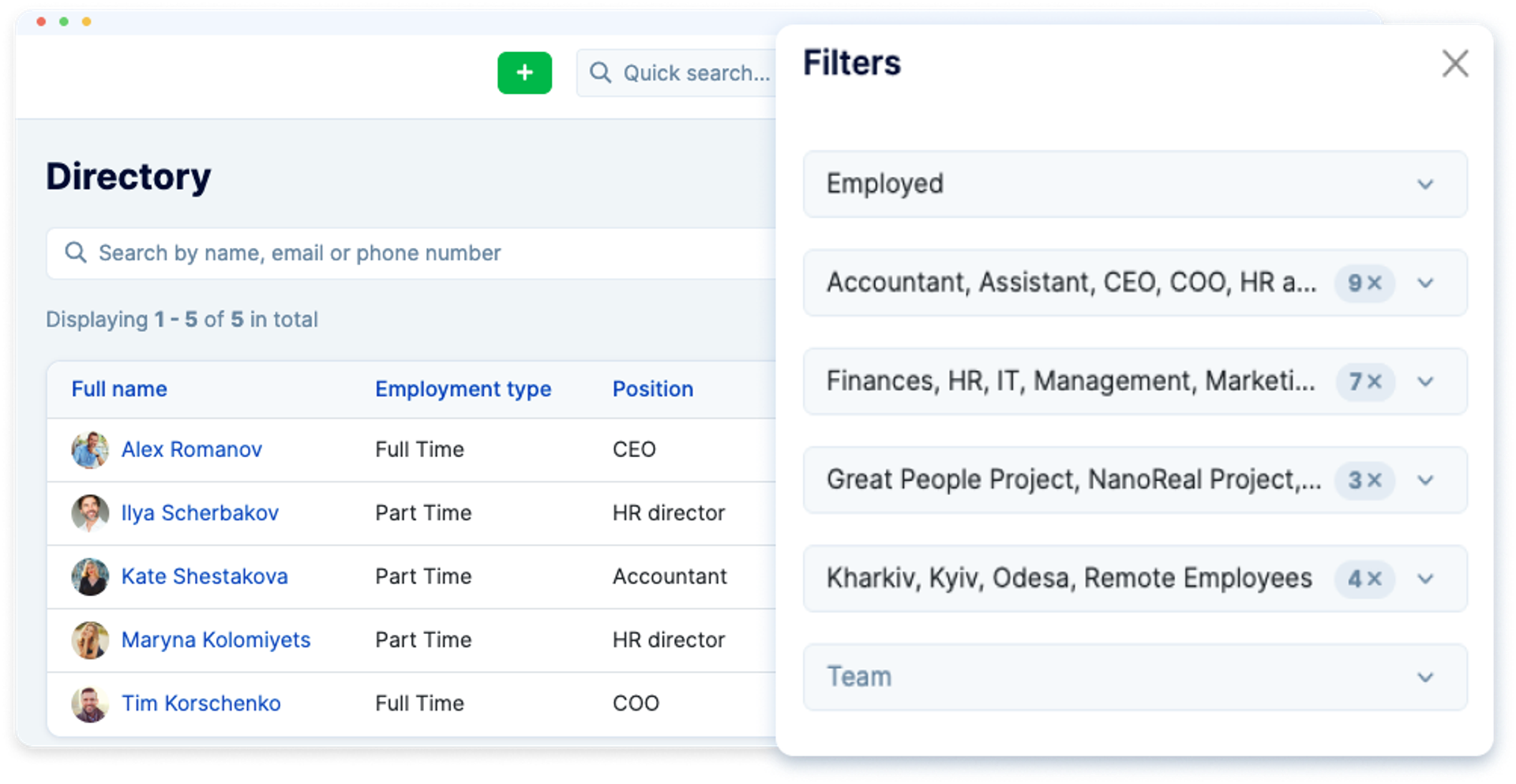 OKR and 1-on-1s
Our team has redesigned the Objectives and 1-on-1s sections, rearranging some elements to increase space for different items displayed on the screen.
Minor Updates
Zapier: an employee update and leave request triggers were added.

Our API has been improved, and users can create tasks and add overtime fields.

Applicant tags import functionality was added to Import.

New options 'Current salary' and 'Currency code' were added and can be used when creating custom reports.

Added print functionality for OKRs.

Added the Candidate filter for Pipeline.

Toast messages will now appear in the bottom right corner of the screen.

Added average values in PDF export for surveys.
Schedule a trial period for PeopleForce, check out our past updates on the blog, and stay tuned for new releases in the PeopleForce Library.