We are excited to announce our latest release, which is primarily focused on a new feature – attendance tracking! This release introduces the latest version of our PeopleTime module, designed to simplify the time-tracking process. With just a quick click on the "Clock in" button, employees can activate time tracking, pause it while on a break, and "Clock out" at the end of the day.
Please note that the attendance tracking feature is currently in beta. For those interested in trying out the feature, contact the customer support team via chat or email - [email protected].
To learn more about the Attendance feature and explore its full capabilities, please visit this article.
The first step towards consistent attendance management is to create an attendance policy and assign it to a specific location. This policy will then be automatically applied to all added or moved employees between locations.
You can enable break tracking for your team with just a check mark. Attendance policies will also allow you to regulate various legal aspects and manage employee attendance in different countries.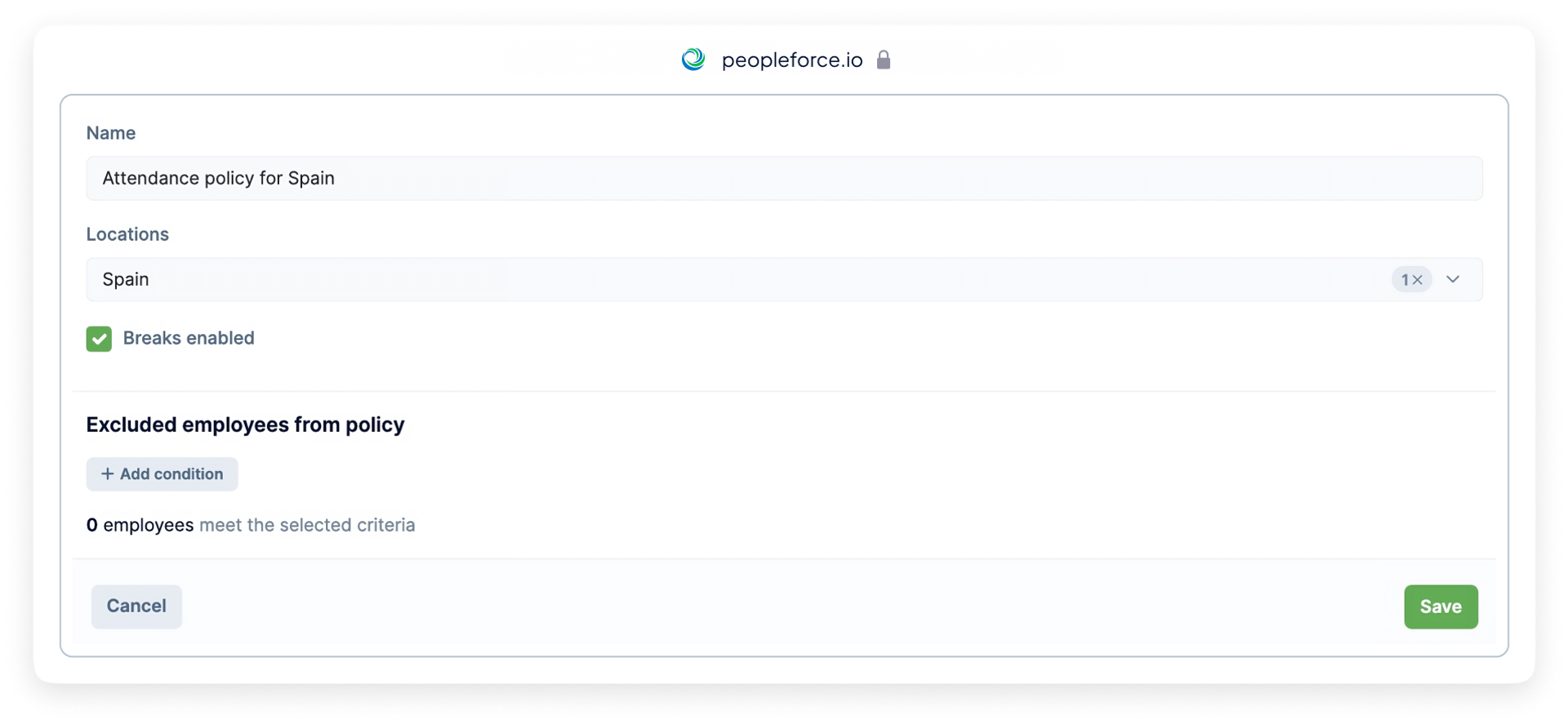 The " Clock in" tab now allows employees to view their tracked time in a convenient calendar or list format. The system automatically calculates expected hours based on the capacity specified in the employee profile and tracks work and break hours. If an employee takes leave, the "Leave hours" widget displays and calculates it.
The "Remaining hours" widget provides employees with an accurate count of their remaining work hours, calculated by subtracting tracked work, break, and leave hours from expected hours.
Join the presentation of our new Attendance page!
All time tracked at the company level will now be displayed in one location on the Attendance page, making it easier than ever to track the working hours of all your employees. In addition, you can now nudge employees who still need to submit their timesheets directly from this page.
Please, watch our explanatory video detailing the new functionality.
Calendar availability when scheduling interviews and 1-on-1s
We have redesigned the process of scheduling interviews and 1-on-1s! Gone are the days of manually checking your colleagues' calendars for availability - now, select the participants, and the system will automatically identify available time slots that work for everyone.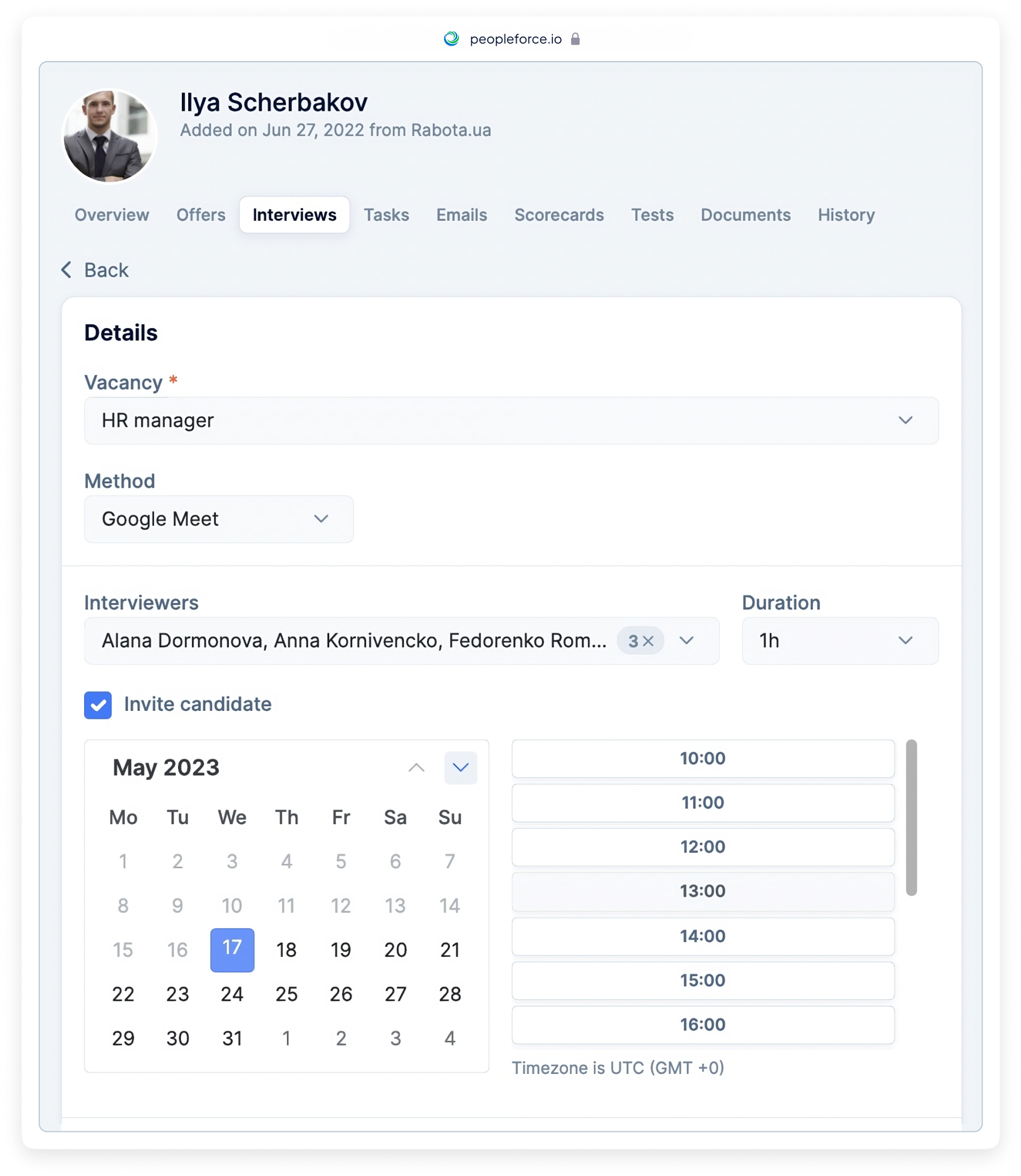 So that you know, this feature is only available for companies that have installed Google integration at the company level. In order to obtain the new permissions required for accessing calendar availabilities, if you have already integrated Google Calendar, you will need to uninstall and reinstall the integration.
Daily frequency for additional compensation
The daily frequency option is now available for additional compensation in the employee profile Job section. While this may seem like a small change, it will significantly benefit companies that cover expenditures like daily meals.
Default assignees for PeopleDesk
There's good news for all users of the PeopleDesk module. First, we have added a new feature that allows you to choose default assignees for different case categories. This means that cases can be automatically routed to the right team members.
For example, for the Salary category, your accountant can be assigned as the default assignee. Therefore, whenever a case is filed under this category, it will automatically be assigned to the accountant, who will receive a notification via email or the notification bar. From there, they can take appropriate action or reassign the case to another employee.
Background export functionality for surveys, reviews, vacancies, objectives and 1-on-1s
From now on, you can export surveys, reviews, objectives, 1-on-1s and vacancies through a dedicated "Export" tab in General Settings. Following the usual process, you can select the required file and then wait or continue your work while the export is prepared. Once it is ready, you will receive a notification, and you can then download the file from either the information or the Export tab itself.
Having all your exported documents in one place allows you to easily monitor who has access to sensitive information and ensure that your company's data is secure. In addition, the "Exports" tab is simple to use and navigate, making it easy to find the information you need.
We also have some additional updates to share:
The minimum daily amount in "Leave policies" has been changed to disallow 0 as an entry.
The Capacity report has been removed from the "Reports" tab, but you can still track all employees on leave using the Timeline page.
Finally, if you opt to use the new version of PeopleTime with time tracking, the reports for Hours by task, Hours by day, and Planning will no longer be available.
Would you like to share your thoughts on this month's updates? Please write to us by email or message us via our social media sites; we will be happy to receive your feedback.
You can also book a demo presentation where one of our managers will happily answer your questions.
Plan a trial period of the PeopleForce system, read our past updates on our blog, and follow our new releases in the PeopleForce Library.